Remote Desktop Protocol is an outcome from Microsoft that delivers protected network communication to the user. The RDP enables the administrators in an organization to analyze and diagnose issues remotely from a physical desktop computer. In another language, you can also say remote desktop connection enables the users to access their physical work desktop from any remote place that they want.
The most common example of RDP can be extracted from the recent work-from-home scenarios. Microsoft remote desktop is a highly demanding product during remote working times. Employees who are working at remote places or from home are getting access to their work computers. Besides, the admins who are offering system maintenance also use RDP to access a computer at any place.
However, using RDP requires some prerequisites. The user who wants to use the RDP needs the RDP client software to jack the Remote Windows PC. The PC must also have the RDP server software. In RDP, a graphical user interface allows users to access their work computers at remote places. It is like you are using the same computer but from a different place. You can access files, edit them, and do whatever you can. 
Moreover, RDP is a Microsoft product that enables you to use the work desktop as it is from anywhere. Further, the RDP client's software is accessible for almost all the OS. It includes all versions of Windows, macOS, UNIX, Linux, iOS, Android. You may find a free version of the RDP client as well.
Features and Functions that You Get in the RDP
RDP is a protected protocol that delivers secure communication between client servers as well as a virtual machine. It is more like forming a mirror image of your work desktop and working on it. The greatest thing about RDP is despite being a product of Microsoft, RDP works with almost all OS. It includes MAC OS, iOS, Android, UNIX, LINUX, and Windows. Some of the most indispensable features of the RDP are:
Smart card verification

Reduction of bandwidth

It offers you an opportunity to use multiple displays at once

You can temporarily disconnect from the work desktop without logging off

Supports graphics support unit

RDP comes with RC4 encryption that offers you 128-bit data encryption for mouse and keyboard data

Users can get the audio directly from work desktop to remote used computer

You can access all the local files

Users can use local printers to print while using remote desktop session

The apps in Ubuntu remote desktop can use the local ports

All the apps of a remote desktop can also get used at a local computer

It offers you a faster and seamless connection with remote work desktop  
Besides all these features, there are also some other vital features that you get along with the RDP. The RDP can support more than 64,000 independent data transmission paths. Further, the data gets encrypted using 128-bit encryption. The most powerful feature is bandwidth reduction. This is a feature that allows users to achieve data transmission even at a weak connection.
Working of Remote Desktop Protocol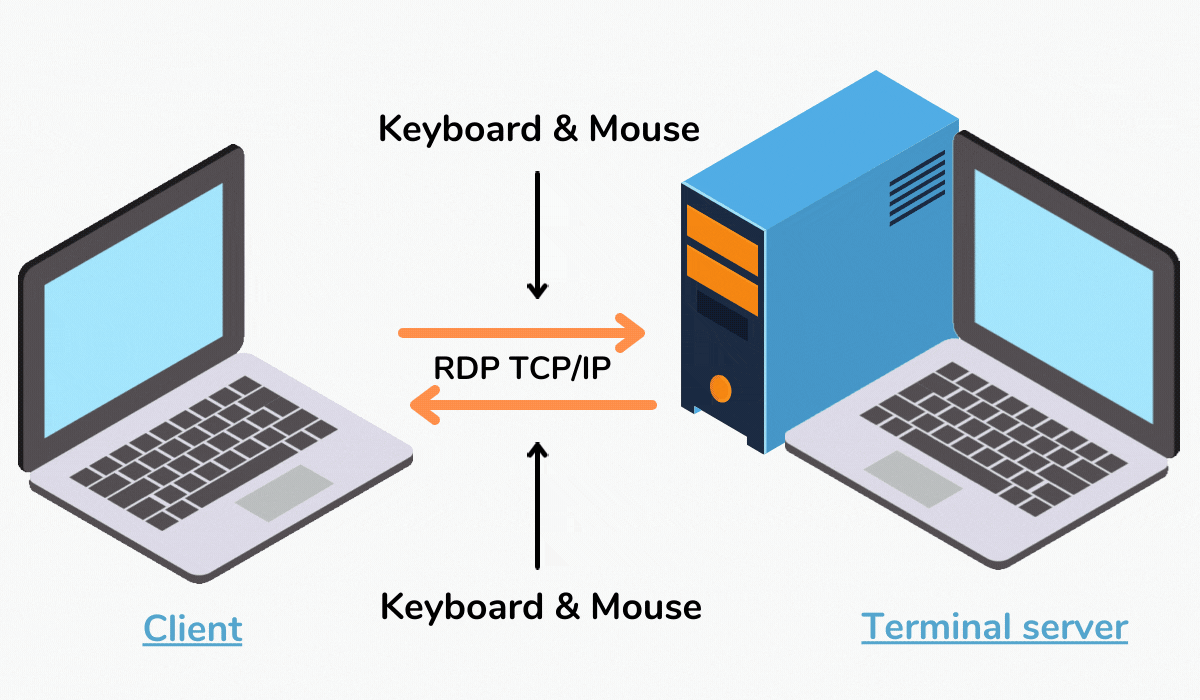 The remote access to the work desktop that users get in RDP is possible with a devoted network channel. An app that comes RDP enabled makes data packets that then get transmitted by the Microsoft communication service. The communication service sends this data to RDP channels. From these channels, the OS encrypts the RDP data and integrates it into a frame. This makes it possible for the data to get transmitted to a local OS/computer.
All the RDP protocol activity gets handled with the terminal service device redirector driver. Again, this kernel driver has many sup parts; this handles the user interface and helps in data transmission, framing, compression, and encryption. The transport driver is vital as it conducts the packaging of protocol to transmit it across TCP/IP networks.
Best Practices to Achieve Secure RDP Sessions
Although the remote desktop mac offers you protected network communication, it still is exposed to attackers who want to steal information. In such cases, you need to follow best practices while using RDP to make the session secure. Here is what you can do?
Introduce limitations for the number of login attempts to prevent session hijacking

Always use robust credentials and two-factor verification while logging in

Restrict the access to users unless they need it

Evaluate the vendor response

Make sure you are using a firewall to block unnecessary access

Make sure the remote desktop and local computers are updated

Ensure about network-level authentication
Pros and Cons of Using the Remote Desktop Protocol 
Everything has two sides. With advantages, you also get disadvantages in many things. Similarly, windows remote desktop also has pros and cons. Here are remarkable pros and cons that will let you be more transparent about RDP.
Pros of RDP
Data protection:

Data protection on the device is one of the significant advantages you get in the RDP. Using the RDP helps you secure your data on your devices instead of relying on cloud platforms. The cloud platforms and other devices are less secure.

No need for a VPN:

Unlike any other platform, RDP doesn't need a virtual private network to offer data transmission. It has a network to transmit the data from the remote desktop to the local desktop.

Remote working:

The RDP helps the employees working at firms with inherited on-premises IT infrastructure work from remote areas.
Cons of RDP
Latency issues:

The latency issue is a common problem that you may find if you have a slow internet connection.

Security problems:

Without strong security measures, the users can find security problems in the RDP sessions. Hash attacks, computer worms are the ones that make RDP insecure. However, with security measures, you will find no such problem.
Overall, RDP is a great product and tool that enables the user to achieve Remote desktop access. You can achieve the remote desktop on your local computer as it is like a mirror image.
Conclusion
Keeping it short, this is an in-detail guide about RDP that will help you most. If you want RDP, you must opt for TryRDP. It is the best RDP provider with more than 2000 clients worldwide. Some essential features that TryRDP offers you include advanced hardware, an affordable plan, any time support, and security.
We hope this article about Remote Desktop Protocol is helpful to you, do share this content on social media if you found it useful for you in any manner. Please stay connected with us for future updates.