Security Support Provider Interface or SSPI helps an application use the existing security models in a network or a computer. The benefit of SSPI is that it can do so without altering the security system interface. SSPI implements a security service provider named Credential Security Support Provider protocol or CredSSP.
CredSSP ensures the safe transfer of credentials from the user system to the recipient system during remote connection authentications. The inbuilt policy settings can ensure that the credentials are not transferred to an unauthorized server. Even if there is trust on the server through Kerberos Protocol or NTLM, it doesn't recognize a server as authorized.
This article will help you in fixing a CredSSP Encryption Oracle Remediation error. CredSSP is a composition of several protocols and uses them in the stages of the transfer of data. The steps involving data transfer are briefly stated below:
Creating an encrypted passage with TLS (Transport Layer Security) Protocol
Authenticating entities with SPNEGO (Simple and Protected GSS and API Negotiation mechanism)
Connecting the TLS passage with the encryption key of SPNEGO
Encrypting the public key and sending it from the user to the server
Sending acknowledgment of the key to the user after verifying the key
Finally, send the SPNEGO encrypted user credentials to the server
What is CredSSP Encryption Oracle Remediation?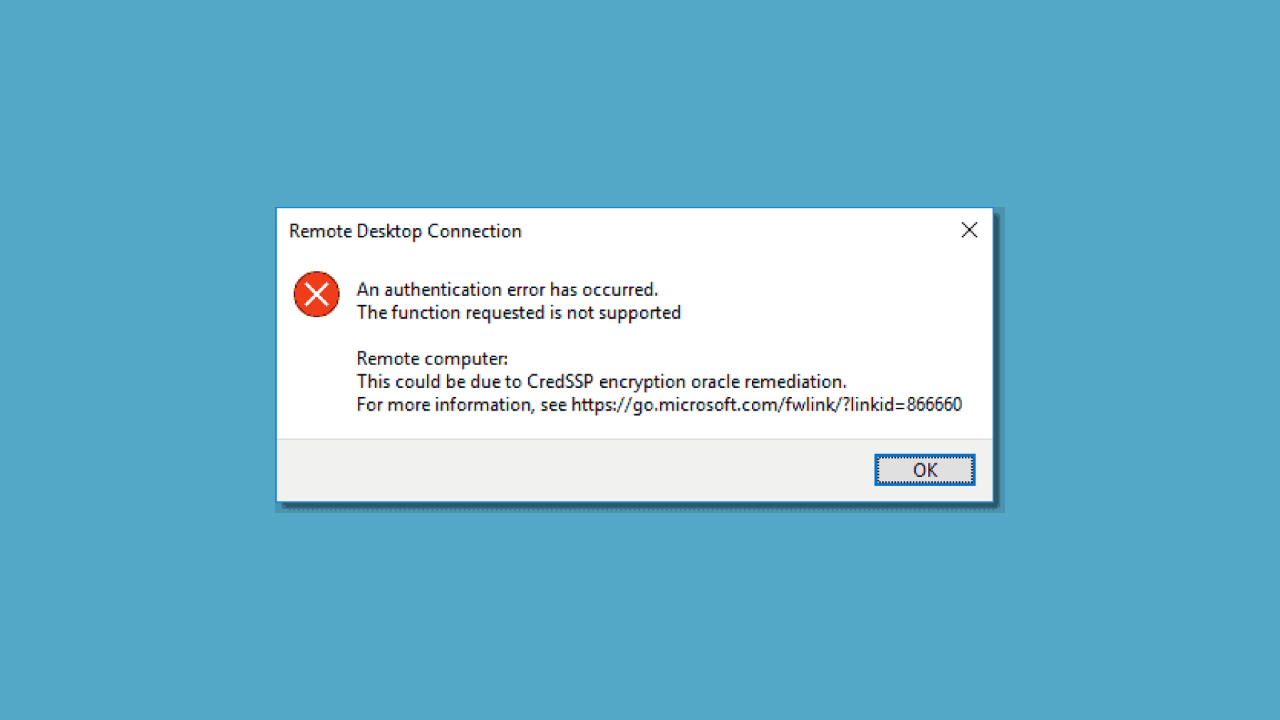 While connecting to a server through Remote Desktop Protocol (RDP), sometimes an error appears message appears. It states, "An authentication error has occurred… This could be due to CredSSP encryption oracle remediation". This error will block the connection process and will not allow the transfer of data to the server. The error is an execution vulnerability that a hacker manipulates to know the credentials and destroy or distort data stored in the system.
This error blocks the connection because, during the connection, any hacker can quickly write an executable code in between the transfer to manipulate data in the systems involved. This error allows the administrator to fix the susceptibility of how CredSSP authenticates requests during the connection.
What Causes CredSSP Encryption Oracle Remediation?
CredSSP Encryption Oracle Remediation error occurs while creating a connection with an at-risk server. The policy settings of Encryption Oracle Remediation ensure blocking of such connections. It is also possible that either of the systems involved doesn't have an updated CredSSP. Other causes of this error can be incorrect policy settings or corrupt registry values.
Symptoms Of CredSSP Encryption Oracle Remediation
The main evidence of CredSSP Encryption Oracle Remediation is when you install new updates of CredSSP to any of the systems or connect systems via RDP. During these, a RemoteApp error message with the following statements appear:
An authentication error has occurred.
The function requested is not supported.
Remote computer: <IP or name of computer>.
This could be due to CredSSP encryption oracle remediation.
For more information, see https://go.microsoft.com/fwlink/?linkid=866660.
How to Fix CredSSP Encryption Oracle Remediation?
Several methods of fixing a CredSSP Encryption Oracle Remediation exist depending on the cause of the problem. When the cause is not known, it will be easier to correct the issue using the below fixes in the given order.
Fix 1: Check The Status Of Windows Server Update Services
It sometimes happens that the Windows Server Update Services (WSUS) is not functioning correctly, causing it to skip updates. As discussed earlier non-updated CredSSP can cause the CredSSP Encryption Oracle Remediation error. So, the first method will be to check if WSUS is running correctly or not.
The list will show when the system was last updated, and one can cross-verify it with the list available on the internet. If the Microsoft website shows any newly released updates that are not available in your system, you need to reconfigure WSUS. After updating, your system should work just fine.
Fix 2: Change Default Settings Of CredSSP In Local Group Policy Editor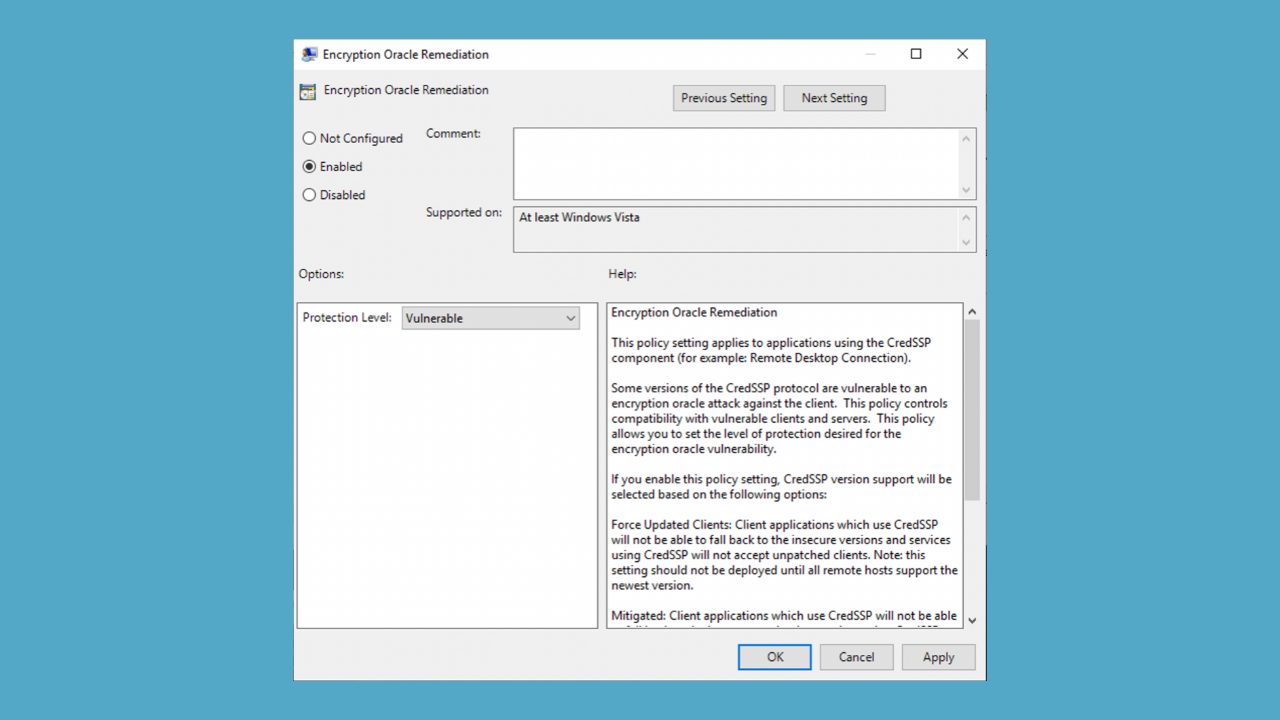 When new updates to the system, there is a possibility that the settings of CredSSP are reset to default values. One example is the KB 4094392 update released by Microsoft on May 8, 2018, which changed the settings of CredSSP from Vulnerable to Mitigated. To fix similar errors, follow the below steps.
Press Windows + R to start Run and enter gpedit.msc to open Group Policy Editor
Open Computer Configuration
Open Administrative Templates
Then open System
Open Credentials Delegation
Right-click on Encryption Oracle Remediation and select Edit
In the pop-up menu, select Enabled
Change Protection Level to Vulnerable and click on apply and close everything
Start Run and enter gpupdate to force apply the Local Group Policy Editor changes
Reboot the system, and the error should be gone.
Fix 3: Resolve Error Using Registry Editor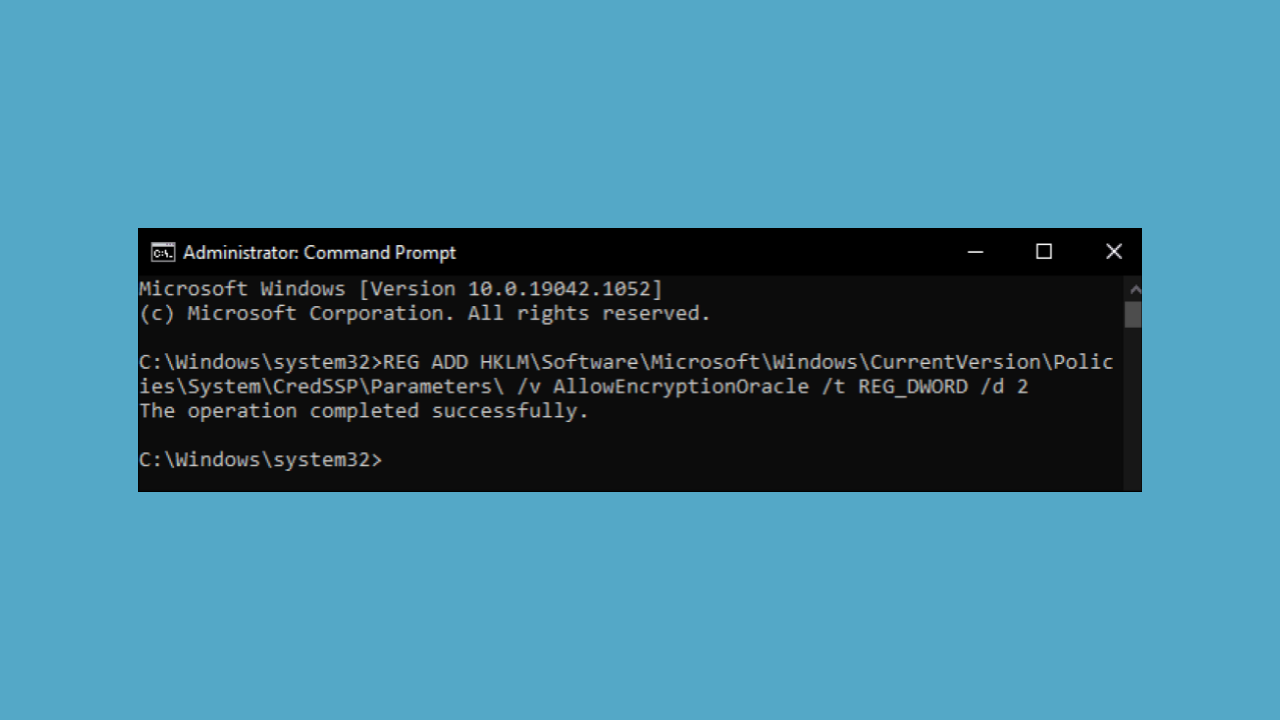 CredSSP Encryption Oracle Remediation errors in Windows 10 Home version are not possible using Local Group Policy Editor. Because they don't have a Local Group Policy Editor for Windows 10 Home, you can change settings using the registry editor. The steps are as follows.
Command Method:
Type cmd in the search bar
Right-click on cmd and select Run as administrator
Copy and paste the below command line:
REG ADD HKLM\Software\Microsoft\Windows\CurrentVersion\Policies\System\CredSSP\Parameters\ /v AllowEncryptionOracle /t REG_DWORD /d 2
Fix 4: Reboot The System, And The Error Should Be Gone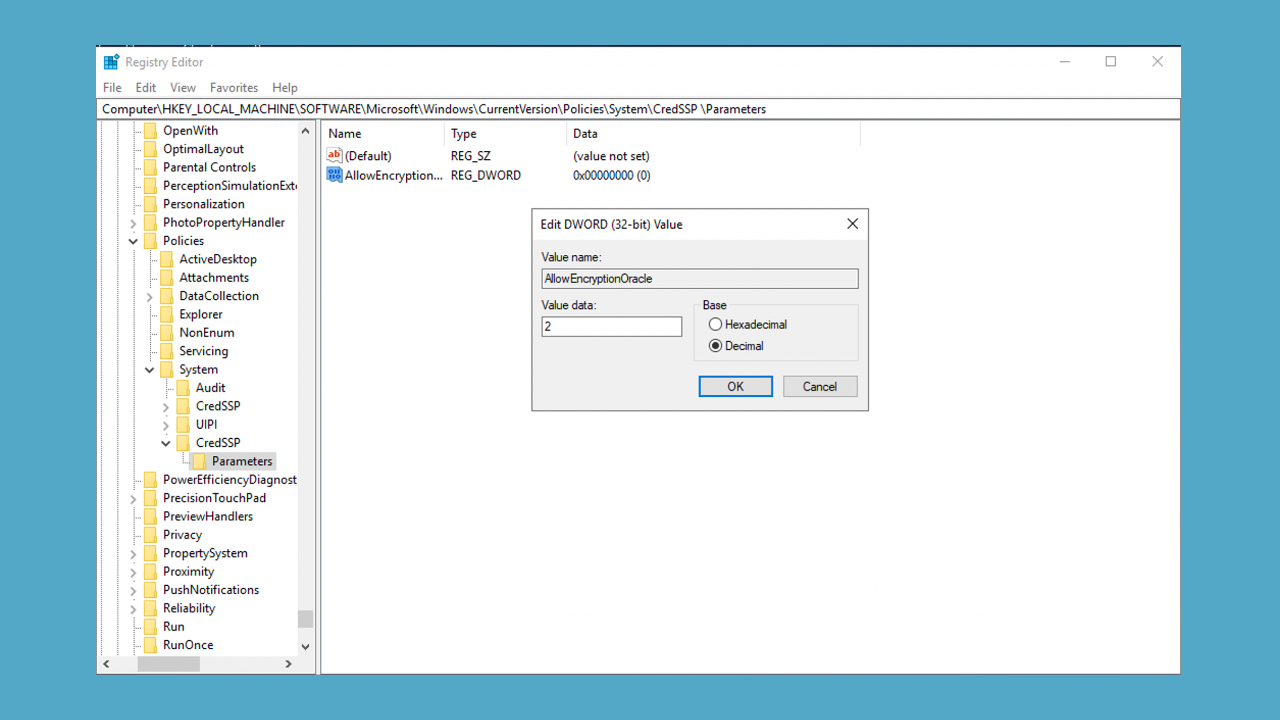 Manual Method:
The process in Method 1 is a direct command line. If it is not working, then you can follow these steps to do the registry changes manually.
Start Run and type regedit to open Registry Editor
Expand HKEY_LOCAL_MACHINE
Open Software
Open Microsoft
Then open Windows
Open Current Version
Open Policies
Then open System
Right-click on system, hover on New and select Key and name it CredSSP (Case Sensitive)
Right-click on CredSSP and hover on New and select Key and name it Parameters
Inside Parameters right click and hover on New and select DWORD (32-bit) Value and name it AllowEncryptionOracle
Right-click on the newly created AllowEncryptionOracle and select Modify
In the Edit DWORD (32-bit) Value pop-up menu, set Value data as 2 and select Decimal in Base.
Click OK and exit
Reboot system and the changes will apply
How to Prevent CredSSP Encryption Oracle Remediation?
To prevent CredSSP Encryption Oracle Remediation error, one can always ensure that the security protocols are regularly updated. As mentioned earlier, we can see whether any new updates have changed policy settings or variables to default values. While doing so, our systems will not be at risk while connecting to vulnerable CredSSP hosts, and the data is safe from hackers.
While running a server, we cannot ensure that the users will have an updated protocol. But we can make it mandatory in the server disclaimer so that the user can use the updated version.
Conclusion
Do not ignore the CredSSP Encryption Oracle Remediation error. The error is an exposure of confidential data transfer through the internet. With the basic knowledge of coding, any individual can jump in on the channel and cause harm. Go through all the fixes mentioned here to secure the connections between the client and host servers. One of the above fixes will correct the error and protect your connection from vulnerability.
We hope this article about CredSSP Encryption Oracle Remediation is helpful to you. Do share this content on social media if you find it useful for you in any manner.